Green Olive had achieved certificate of conformance to the Australian Standard as 4736 by Australasian Bioplastics Association. The ABA is dedicated to promoting plastics that are biodegradable, compostable and based on renewable resources. Our certificate number is ABAP 10270, for our products: Sugarcane bagasse pulping (bowls, plates, container) (unprinted/uncoloured) up to a maximum thickness and grammage of 730 µm / 553 g/m2.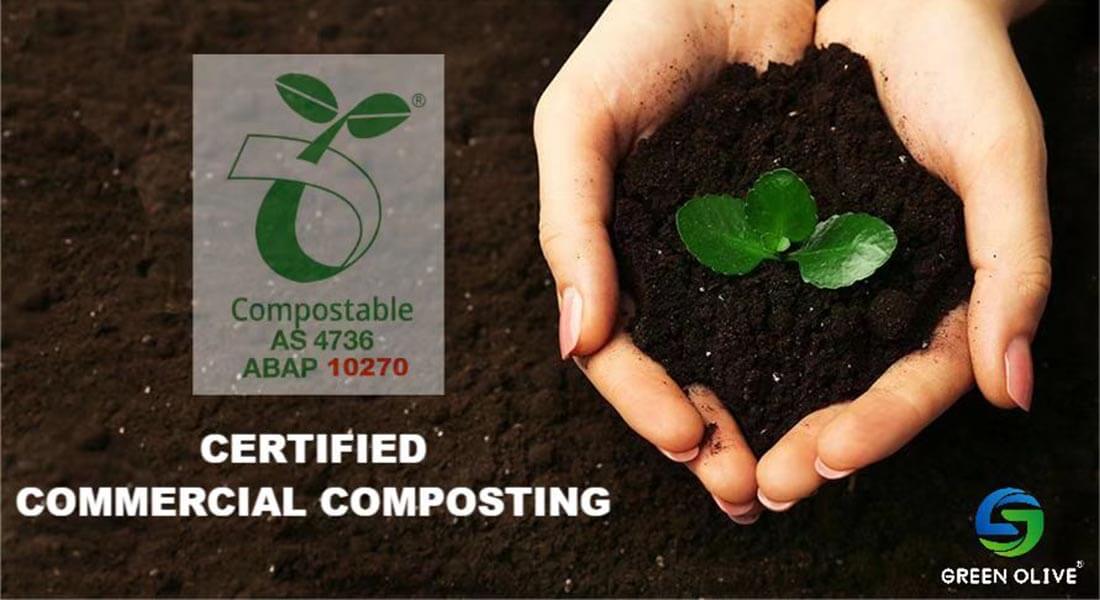 The ABA launched Australian Standard 4736-2006, compostable and biodegradable plastics "Biodegradable plastics suitable for composting and other microbial treatment" which is known as the 'seedling logo' certification system throughout Australia and New Zealand. The seedling logo clearly identifies and differentiates packaging materials as biodegradable and compostable. To be certified compostable and carry the seedling logo, suitable biopolymer materials must undergo a stringent test regime outlined by AS4736 and carried out by recognised independent accredited laboratories to the AS4736 standard.
What is Compostable?
Composting is the process of breaking down organic waste by microbial digestion to create compost. Compost has many beneficial uses including improving and fertilizing soil. To go through a composting process, organic waste requires the right level of heat, water, and oxygen. In a pile of organic waste, there are millions of tiny microbes that consume the waste, transforming the organic materials into compost.
Products that are designed to turn into nutrient-rich compost, a valuable resource that helps with the growth of plants. When products are composted there is no "waste" as nutrients are recycled. For a product to be labeled as "COMPOSTABLE", there are performance standards to be met first. Under the International Organization for Standardization (IOS), there are standards for both home and commercial composting. The main standards are from Europe, the US, and Australia.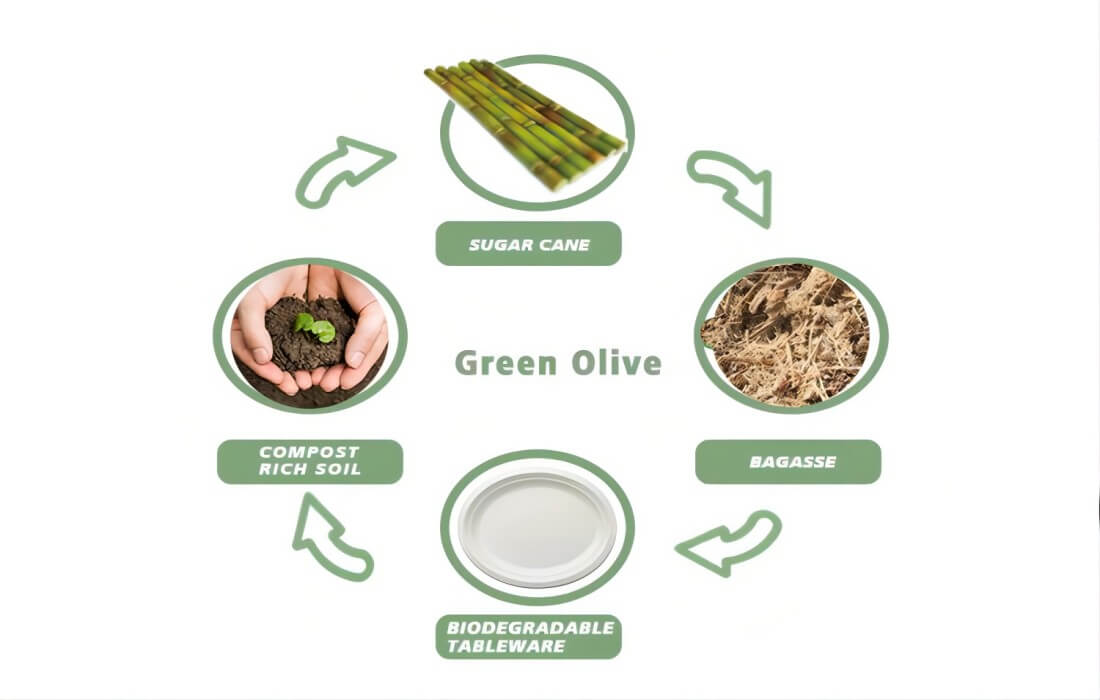 Products manufactured by Green Olive are tested and certified commercially compostable. For the above three things to be achieved for our packaging, optimal conditions are required: high temperature (on average 65℃), sufficient moisture and air, and the right population of microorganisms to chew down the waste. All these things are achieved in a commercial facility.
Bagasse compostable coffee cups and cup lids have become a poster child for the anti-plastic movement, but we produce a lot more than cups and lids. We have bagasse food containers, bamboo cultery, plates and bowls, paper straws and more compostable packaging for all occasions.
Green Olive's packaging can be found in a number of take-out cafes, restaurants, and supermarkets all over the world. They are trying to make a difference but using products that support the composting industry and diversion of waste from landfills. They want consumers to join them on a journey towards improved sustainability. The potential for a more sustainable country is there, we just need to keep the momentum going and continue to develop composting.
Together, we can have a better earth when we begin to pay attention to compostable products. Contact us right now, and get more details of these kind of pulp molded packaing.