Environmentalists are finding that biodegradable paper cups are phasing out plastic paper cups.
Now they are calling for the elimination of plastic cups, most of which end up in landfill and sewers. However, these plastic cups cannot be dissolved, causing serious environmental pollution.
Biodegradable paper cups and other paper takeout containers must be coated on the inside so they don't absorb food and lose their shape when they're filled with coffee, tea, or cold beverages.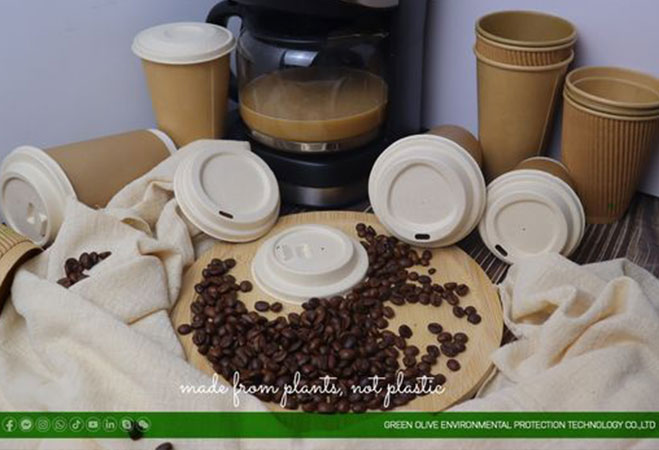 Longyan Green Olive Environmental Protection Technology Co., Ltd has developed biodegradable paper cups made from bagasse and bamboo fibers. Biodegradable and compostable in both home and commercial settings - healthy, non-toxic, non-hazardous, and hygienic. All of our products are green, compostable, disposable, and environmentally friendly. Our products can be 100% degraded in 90-100 days under natural conditions. Also suitable for landfills.
Biodegradable paper cups made from natural plant fiber pulp such as sugarcane, tree-free bagasse, and bamboo pulp, are carbon neutral, environmentally friendly, compostable, and biodegradable. This is a new environment for products that take into account the global potential for plastic restrictions and plastic pollution under climate change scenarios.
All raw materials are imported from responsible and reliable suppliers in Thailand to ensure safety and quality. GREEN OLIVE has implemented a strict quality control program in the production process; ensuring that the overall pass rate of the final product reaches 95%+.
In addition, in order to provide tailor-made molds according to customer requirements and ensure rapid turnover of mold modifications, the company has built its own mold workshop, equipped with senior mold engineers and cutting-edge mold equipment, to control quality from the source and improve efficiency. Provide professional and better OEM and ODM services of biodegradable packaging to our customers.