What are the features of compostable coffee lids made from bagasse, a pulp made from sugar cane?
Food brands in Germany, Benelux, Scandinavia, France, Italy, Spain, the UK, and more will be able to substitute a cost-effective alternative that is compostable, breakable, and PFAS-free plastic cap. The lids will help food brands meet their environmental sustainability commitments without sacrificing performance, the company claims.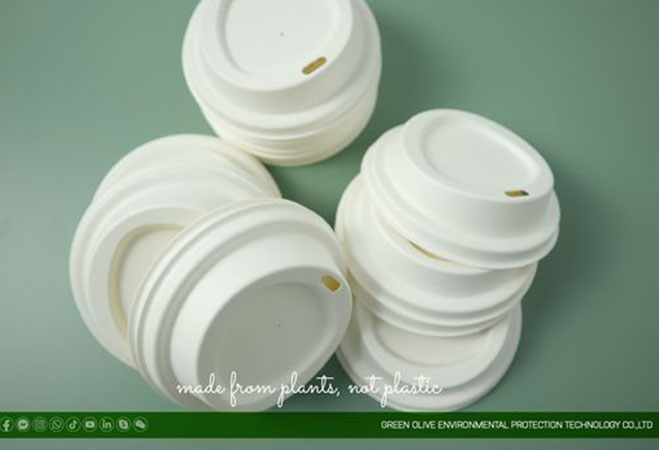 In fact, many fiber-based alternatives cannot withstand hot liquids and either deform or disintegrate, which is not suitable for drinking coffee.
Through extensive research and development combined with our advanced manufacturing techniques, we can transform natural materials such as bagasse (a pulp made from sugar cane) into our advanced environmentally sustainable snap-on lids.

It wasn't easy to develop a snap-on lid that would hold hot coffee, let alone make it compostable. Start by considering why brands choose plastic: because it's cheap, convenient, and functional.
Despite these qualities, we all have plastic lids that either leak or don't fit the cup at all. For coffee drinkers, there are few things more frustrating than that.

These covers, in particular, are produced in China where there is a lot of discarded sugarcane so it is sustainable to use mainly bagasse (a pulp made from sugarcane) we also use bamboo fiber and other Natural materials are used to manufacture our advanced environmentally sustainable packaging.
Our team uses modern scientific and advanced management concepts and methods to build the production base into a modern exclusive factory and then uses the Longyan factory as a demonstration to build multiple production bases across the country and Southeast Asia to meet market demand. The company was founded on a simple mission to make people's lives better through sustainable food packaging that people use in their everyday lives. This contributes to improved quality of life and environmental sustainability and helps ensure that all packaging meets the correct standards expected and demanded by the modern world. As a business, our aim is simple - to transform the packaging into a safer and more sustainable industry by using ethical production methods.

How the fibrous lids compare to traditional plastic lids, which are "completely environmentally unsustainable and will have disastrous consequences if we don't stop using single-use plastics.
Plastic lids and disposable coffee cups can take decades to break down and release harmful microplastics that contaminate our food, water, and bodies.
Unlike plastics made from vital materials such as coal, crude oil, and natural gas that are harmful to the environment and contribute to global warming, our solutions are made from repurposed natural materials such as bagasse, significantly reducing carbon emissions in production.
From harvest to production to disposal, our compostable coffee lids work to significantly reduce our carbon footprint and eliminate plastic waste throughout their lifecycle. As experts in the environmental technology industry, we are passionate about making the world a safer and more progressive place. To this end, we want to use our expertise in environmental standards to create safer and more ethical packaging for consumer products. Our team spans various fields and specialties with the desire to provide the right solution for each specific purpose client.